Nuevo Ideal Nacional - Hymns Pro Bellum (2010)

DeathXater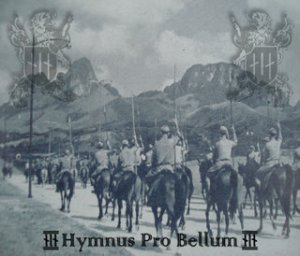 Artist: Nuevo Ideal Nacional
Album: Hymns Pro Bellum
Label: self-released
Year: 2010
Genre: martial industrial, neofolk, noise
Country: Venezuela
Format: Mp3@CBR320kbps
Size: 123 mb
Time: 00:55:21
(+) front & back cover
Tracklist:
01. For The Seven Lakes. by Ezra Pound
02. Viene la Guerra!
03. El Fuego de los Dioses
04. Junta Militar de Gobierno
05. Ave Guerra!
06. Paz! Nunca Más!
07. Coplas de Guerra
08. Manú, por el Hombre que Vendrá
09. La Espada de los Generales
10. La Guerra Llegara
11. Quien llama en los Hielos
12. Bem plai lo gais temps de pascor
13. Trovador de la Sangre
+++++++++++++++++++++++++++++
mediafire.com


1899

0
Category: ELECTRONIC, Electro / Industrial, Noise, Venezuela
Register, if you have a invite.