Absurd ‎– Grimmige Volksmusik - Die Folterkammer - Sitzung (2019)

88nsm pirates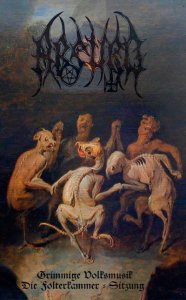 Artist:
Absurd
Album:
Grimmige Volksmusik - Die Folterkammer - Sitzung
(Tape)
Label:
Robber Baron Enterprises
Year:
2019
Genre:
Black Metal
Country:
Germany
Format:
mp3@320 kbps
Size:
42 mb
01. Ein Jäger aus Kurpfalz
02. Hoch auf dem Panzerwagen
03. Im Frühtau zu Berge
04. Hab mein Wage vollgelade
05. Instrumental
06. Aufruf des Schinderhannes
The first take of the project of "Grimmige Volksmusik", different line up, different recording facility, done somewhere in 2005.
"Grimmige Volksmusik" was completely re-done a few months later in another studio, with the participation of Unhold. The featured session was entirely discarded, then, and never before released in its entirety.
download:
ex-load
password:
88nsm


3110

0
Category: METAL, Black Metal, Germany
Register, if you have a invite.