Capricornus & Aryan Blood - Split (1999)

88nsm pirates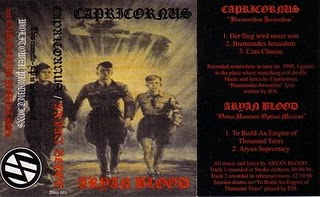 Artist: Capricornus & Aryan Blood
Album: Split
Label: Wolftower Prods / Capricornus
Year: 1999
Genre: NSBM
Lyrical theme(s): W.A.R. (White Aryan Resistance) | National Socialism
Country: Poland(Wroclaw) | Germany (Hesse)
Format: mp3@CBR 192kbps
Size: 19.9 mb
Time: 14:35
Tape.
"Brennendes Jerusalem" lyric written by JFN.
Capricornus:
01.Der Sieg Wird Unser Sein 01:27
02.Brennendes Jerusalem 03:00
03.Czas Chaosu 01:36
Aryan Blood:
04.To Build An Empire Of Thousand Years 03:57
05.Aryan Supremacy 04:59
ex-load


2446

0
Category: METAL, Black Metal, SPLITS & SAMPLERS, Splits, Poland
Register, if you have a invite.