Satanic Warmaster & Stutthof - Satanic Warmaster/Stutthof [split] (2006)

88nsm pirates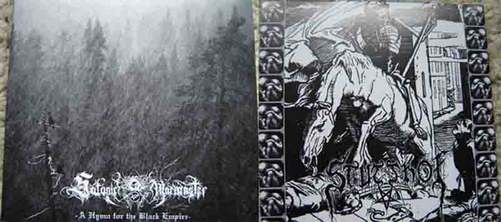 Artist: Satanic Warmaster & Stutthof
Album: Satanic Warmaster/Stutthof [split]
Label: Zyklon-B Productions
Year: 2006
Genre: NS Black Metal
Lyrical themes: Satanism, Occultism, War, Vampyrism / Occultism, Vampirism, Darkness, NS
Country: Finland / Greece
Format: mp3@243
Size: 17.1 MB
Time: 08:51
(+) scans
Gatefold 7" EP limited to 300 copies (first 66 on red vinyl). Picture version limited to 300 copies. It's unlikely that these were actually as limited as the label claimed they were.
Die-hard box versions are limited to 25 copies for each band. Contains red vinyl, a shirt, a sticker and a poster of the band. This was don e without the permission of the bands and as such should be considered a bootleg.
Tracklist:
Satanic Warmaster:
1. A Hymn For The Black Empire 04:04
Stutthof:
2. ...Ancient Visitors From Ur... And The Holocaust Of Renegades 04:47
*************************
Depositfiles
Megaupload


1292

0
Category: METAL, Black Metal, SPLITS & SAMPLERS, Splits, Greece, Finland
Register, if you have a invite.