VII Batallon De La Muerte - El Libertador (2012)

DeathXater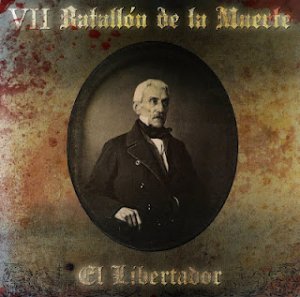 Artist: VII Batallón de la Muerte
Album: El Libertador
Label: Frenteuropa Records
Year: 2012
Genre: NS Black Metal
Lyrical theme(s): Nationalism, History
Country: Argentina (Capital Federal)
Format: Mp3@320 kbps
Size: 98.7 mb
Time: 44:34
The album has been planned to be released at 2008 but there were some delays that caused the release to be pushed back to 2012, when it was finally released.

Released in a gloss laminated digipack, limited to 300 copies with A3 poster.
Tracklist:
01. Introducción: Himno Nacional Argentino
02. Gottesvogel
03. La Tierra Blanca
04. Marcha De San lorenzo
05. El Libertador
06. Estandartes Del Sol
07. Liberate Tutemet Ex Inferis
08. La Danza De La Muerte
09. Orden Nacional
10. VIIma Ca. De Infantería
11. Werwolf (Absurd Cover)
12. Ashes To Ashes (
Absurd
Cover)
13. Desenlace: Batalla De Chacabuco
++++++++++++++++
ex-load


4464

2
Category: METAL, Black Metal, Argentina
Register, if you have a invite.