Frost - Purifier Par Le Feu/Defendo Patria [best of/compilation] (2011)

DeathXater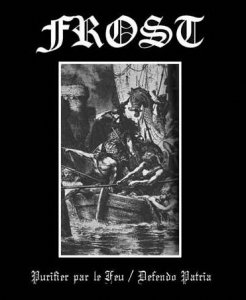 Artist: Frost
Album: Purifier Par Le Feu/Defendo Patria [best of/compilation]
Label: Self-released/independent
Year: 2011
Genre: NS Black Metal
Lyrical themes: Honour, Pride, War, Nature
Country: Canada,Quebec
Format: mp3@VBR262kbps
Size: 52.9 mb
Time: 32:06
CD version compiling both "Purifier par le Feu" and "Defendo Patria" EPs in a limited edition on Black Howling Records.
Tracklist:
1. Purifier Par Le Feu I
2. Spears Of Death (Derniére Volonté)
3. Hrodwulf The Great
4. Crom, Dieu Des Summériens
5. Morning Soul (
Absurd
cover)
6. Purifier Par Le Feu II
7. Victoire à St-Denis
8. Uber-Mensch
9. Furor Normanorum
10. Equinoxe D'Automne
***************************
yadi.sk


2232

0
Category: METAL, Black Metal, Canada
Register, if you have a invite.